Malema hails Zimbabwe's empowerment drive
April 5, 2010 by: Africa Speaks
By Zvamaida Murwira
April 05, 2010
The Herald, Zimbabwe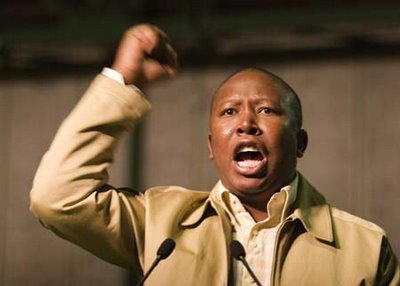 Firebrand African National Congress youth president Cde Julius Malema yesterday saluted Zimbabwe's indigenisation and empowerment programme saying that was the basis for waging the liberation struggle.
The tough-talking ANC youth leader said it was imperative that indigenous people take a keen interest in empowering themselves, as imperialists would never voluntarily hand over wealth to them.

He was addressing Zanu-PF youth wing members last night at New Donnington Farm near Norton, owned by Reserve Bank of Zimbabwe Governor Gideon Gono.
"Having attained political freedom, you can't shy away from economic emancipation," said Cde Malema, who had earlier during the day toured Zimplats Mine plant near Chegutu and Ngezi Mine in Mhondoro.
South Africa, said Cde Malema, had a lot to learn from Zimbabwe's experience both in terms of land redistribution and black empowerment since Harare had attained its independence much earlier than Tswane.
While there might be criticism of Zimbabwe's empowerment regulations, what was critical was the political will shown by the country's leadership.
"As long as there is political will, nothing is impossible. As politicians we are activists but we have people to implement it — the technocrats, people whom we pay who should then polish our ideas. They should not tell us that it is not possible. Once they tell us that then they are firing themselves. But we should be told that it might take long to implement," he said.
He paid tribute to Dr Gono for the shrewd way he handled Zimbabwe's economy, which he said, had been under siege by imperialist forces that imposed illegal sanctions.
"He has manoeuvred, even the best economists cannot explain how he did it to make the economy survive under sanctions," he said.
Cde Malema hailed President Mugabe for his visionary leadership, saying the President could not relinquish power when the enemy was bent on reversing the gains of the revolution.
"In South Africa we had (Oliver) Tambo, who served for 30 years as ANC leader without being challenged. All of us said we needed a unifying figure, " he said.
The ANC youth leader urged Zanu-PF youths to be vigilant and to conduct themselves in an exemplary way to attract more supporters.
Speaking at the same occasion, Dr Gono said he was not opposed to indigenisation and empowerment but his views had been misconstrued to mean that he did not want the economy to be in the hands of the majority.
"I can speak with certainty that nobody has come to where he is without the helping hand of this Governor. I know how painful it is to support a cause and get punished for it. My own children had to be expelled from schools abroad because of my support of this Government," said Dr Gono.
He implored the authorities to guard against situations where the elite would continue benefiting from the indigenisation policies at the expense of the majority poor.
"We are, however, witnesses when good policies have failed our people on the altar of implementation. We are also sounding our minister to be on the lookout for those who will be greedy. The process must not benefit those who have over the years benefited," he said.
Youth Development, Indigenisation and Economic Empowerment Minister Saviour Kasukuwere said the rich mineral deposits the country has should be fully utilised to build infrastructure such as hospitals and roads, among others.
It was high time that Zimbabweans benefited from the rich resources the country is endowed with, he said.
"The journey is going to be long, you need not to be faint-hearted," added Minister Kasukuwere.
He called for a deliberate policy by banks to have a 30 percent quota of their deposits reserved for lending to youths and the disadvantaged.
"We must support our youths, I am sure Dr Gono will help us in that regard," he said.
The Zanu-PF youth wing donated 10 heifers to ANC youth wing, as well as a bull to Cde Malema.
Minister Kasukuwere pledged 10 additional heifers.
The party's national youth executive member, Cde Patrick Zhuwao, said the heifers would spur the recepients to look for grazing land, hence realise the need to redistribute land to the black majority.
Cde Malema, who arrived on Friday, is expected to leave today.