Zimbabwe: PM Morgan Tsvangirai tells West to face reality
April 11, 2010 by: Africa Speaks
New Ziana-Herald Reporter
The Herald – April 10, 2010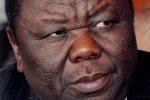 PRIME MINISTER Morgan Tsvangirai said on Thursday President Mugabe is part of the solution to the political equation in the country and the West should recognise this.
Addressing delegates to the Zimbabwe-Africa Business Opportunities Day commemorations, PM Tsvangirai advised cynics to accept the reality of the country's political situation.
"If there are sceptics in the United States who think and wish one day President Mugabe will wake up dead then they are mistaken," he said.

PM Tsvangirai urged the Western world to recognise the progress the inclusive Government had made, particularly in stabilising the economy.
"We need to be rewarded for the progress. We are not where we are supposed to be, but certainly we are where we never thought we would be sometime last year," he added.
The West is understood to be holding back from lifting the debilitating economic sanctions in the hope that the economic malaise can lead to regime change.
PM Tsvangirai said Government was creating an environment conducive for foreign investment and business should not fear the indigenisation and economic empowerment regulations.
He explained that under the empowerment programme, Government was not seizing shareholding but wanted it placed on the open market so that ordinary Zimbabweans could buy into large corporations.
"As government we are working on creating an investment climate that will result in our natural assets being used for economic growth," he said.
PM Tsvangirai urged the business community to interact positively with foreign counterparts to promote international investment.
"If you go out there and paint a bad picture no one will come to invest in the country," the PM said.
There have been attempts by the local private and foreign media to demonise Zimbabwe's empowerment regulations.
The laws seek to ensure Zimbabweans own at least 51 percent of any companies that are worth more than US$500 000.
The indiginisation drive has received widespread support from progressive elements of society who believe that it will result in true economic independence following the equally revolutionary land reform programme." New Ziana-Herald Reporter