There isn't a Biggest Story for Today, yet.
There isn't content right now for this block.

Racism Watch: Just Like Crack in the 80s, the Police State Thrives on Gun Hysteria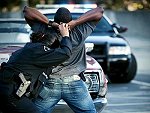 By Glen Ford
February 17, 2013 - blackagendareport.com

"The presence of guns in Black inner cities is sufficient excuse to create a Constitution-free zone."

From the moment it became known that 20 suburban, mostly white children had been massacred by a young white man in Connecticut, it was inevitable that Black America would pay the price. The nation's reflexive response to crime and domestic mayhem – real or imagined, and regardless of the actual race of the perpetrators – is always to punish Black people. Whenever the symptoms of the national sickness – America's endemic violence and alienation – become catastrophically acute, as in Newtown, the standard treatment is mass Black incarceration, by which huge proportions of the Black male population are expelled from the social body like foreign organisms.

The madness in a well-off town in Connecticut had nothing to do with Black inner city violence, which is overwhelmingly rooted in the absence of a legitimate economy, and a lack of social justice – and requires an economic and social justice response. But America is preprogrammed to treat violence as a Black phenomenon.

There is a problem right now with this block.