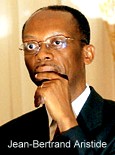 The URL for this page is: www.africaspeaks.com/haiti

Haiti
Humanitarian Occupation of Haiti: 100 Years and Counting
By Mark Schuller - July 30, 2015
This Tuesday marks the 100th anniversary of the commencement of the U.S. Occupation of Haiti. On July 28, 1915, U.S. Marines landed on the shores of Haiti, occupying the country for 19 years. Several college campuses, professional associations, social movements, and political parties are marking the occasion with a series of reflections and demonstrations. Several have argued that the U.S. has never stopped occupying Haiti, even as military boots left in 1934.

The Haitian-Dominican Migration Crisis
On September 23, 2013, the Supreme Court of the Dominican Republic handed down the decision TC0168/13 in the matter of Juliana Deguis Pierre, 28, a Dominican citizen with four children born in the Dominican Republic, ruling against her and all persons similarly situated. The ruling stated that those persons born after 1929 in the Dominican Republic of parents that did not have proper documents while entering and continuing to live in the Dominican Republic without legalization are henceforth stripped of their Dominican citizenship. The ruling will be enforced by all the branches of the Dominican government.


---
Will a Similar Tragedy Unfold in the Philippines?
Haiti, Cholera and the UN
November 15, 2013
A very informative and revealing story about the lawsuit against the United Nations over cholera in Haiti was broadcast on the Canadian Broadcasting Corporation's national evening news program, The World At Six, on November 13. The report began, "The United Nations is among those leading the effort to get aid to the Philippines. But even as it helps out with this natural disaster, it is haunted by the ghosts of another."

U.N. sued for 'bringing cholera to Haiti,' causing outbreak that killed thousands
By Ivan Watson and Joe Vaccarello, CNN
October 10, 2013
In October 2010, a cholera epidemic exploded in Haiti, striking as the island country was still reeling from a deadly earthquake earlier that year which killed tens of thousands of people. The cholera bacteria, which is not indigenous to Haiti, spread rapidly, ultimately killing an estimated 8,300 people. The epidemic sparked riots in several cities and towns against the force of some 8,000 U.N. peacekeepers deployed there.

Haitian families to sue UN for compensation over cholera deaths
October 09, 2013
Class action filed in US will test UN's traditional immunity after outbreak that killed 8,000 people was traced to UN base

UN faces lawsuit over Haiti cholera epidemic
October 09, 2013
Victims of cholera outbreak blamed on UN peacekeepers from Nepal file legal case in New York court.


---
» "Secret History" of U.S. Bullying in Haiti at Oil Companies' Behest
» How Washington and Big Oil Fought PetroCaribe in Haiti

---
FRONTLINE : "Battle For Haiti" - PBS
The conditions in the jails and prisons and detention centers are more than appalling, and it really is a human rights violation to have people in those conditions. I believe right now they have 58 [centimeters] per inmate, and they can't even sit down or lie down. They have to stand up like sardines in those cells, and they have to take turns in order for them to sit. Because of security concerns, sometimes they are not even allowed in some places to leave the cells, not even to go to the toilet, never.

Haiti issues new passport to ex-leader Aristide
February 08, 2011
The Haitian government has issued a new passport to former president Jean-Bertrand Aristide, enabling him to end his exile in South Africa and return to Haiti, a government official said.

Haiti opens door for return of ex-president Aristide
By Joseph Guyler Delva - January 31, 2011
Haiti's government is ready to issue a diplomatic passport to ousted former President Jean-Bertrand Aristide, opening the way for his return home from exile in South Africa, a senior official said on Monday.

'When we say democracy, we have to mean what we say'
Interview by Nicolas Rossier - November 15, 2010
"We are all equal – rich and poor – and we need a society where the people enjoy their rights. But once you speak this way, it becomes a good reason for you to be pushed out of the country or to be kidnapped as I was." — President Aristide

History


Toussaint L'ouverture (1746-1803) by Newsday Historical Digest

HAITI 1986-1994 by William Blum

The Tragedy of Haiti by Noam Chomsky


Haiti's Earthquake
News Updates: trinicenter.com
Haiti's Crisis
Help Haiti: The Unforgiven Country Cries Out
by Chris Floyd - January 15, 2010

Catastrophe in Haiti
by Ashley Smith - January 14, 2010

Haitian Earthquake: Made in the USA
Why the Blood Is on Our Hands
by Ted Rall - January 14, 2010

What You're Not Hearing about Haiti (But Should Be)
by Carl Lindskoog - January 14, 2010

Our Role in Haiti's Plight
by Peter Hallward - January 13, 2010

7.0 Earthquake Devastates Haiti
BREAKING NEWS - January 12, 2010

Cry, the Unforgiven Country: Obama's 'Continuity' in Haiti
by Chris Floyd - April 28, 2009

What is Canada Doing in Haiti?
by Jean Saint-Vil - April 20, 2009


Articles on the 2004 Haitian Coup
Did He Jump or Was He Pushed?
Aristide and the 2004 Coup in Haiti
By Peter Hallward - December 07, 2007

Chávez - A Hero in Haiti
By Mario Joseph and Brian Concannon - April 10, 2007

How to Turn a Priest Into a Cannibal:
U.S. Reporting on the Coup in Haiti
By Diana Barahona - February 01, 2007

Haitian president-elect turns to Cuba, Venezuela
By G. Dunkel - Published Apr 27, 2006

Denial in Haiti: AP reporter RéGINE is wearing two hats
Has the Associated Press and the New York Times gone to bed with the National Endowment for Democracy?
by Anthony Fenton and Dennis Bernstein

6/7: the massacre of the poor that the world ignored
The US cannot accept that the Haitian president it ousted still has support - By Naomi Klein July 18, 2005 The Guardian UK

Aristide in Exile
By Naomi Klein, July 15, 2005

Kofi Annan and Gen. Heleno's Complicity in Latortue's Bloody Regime
By Seth DeLong, www.coha.org

Political Prisoner Rev. Gérard Jean-Juste Released
Today, November 29, 2004, Rev. Gérard Jean-Juste, the pastor of Sainte Claire Catholic Church in Delmas, Haiti, was released after almost seven weeks of illegal detention. Full Article : haitiaction.net

The Coup Connection
How an organization financed by the U.S. government has been promoting the overthrow of elected leaders abroad
Full Article : motherjones.com

US Sponsored Coup d'Etat: The Destabilization of Haiti
by Michel Chossudovsky, February 29, 2004

CARICOM-Haiti-U.S. Relations: Afrocentric View
by Dr. Kwame Nantambu, October 21, 2004

Resistance in the Slums of Haiti
by Nancy, October 17, 2004

Haiti's Elections: A High-Tech Sham is Underway
by Lucson Pierre-Charles, October 03, 2004

Will He Stand Up? Kerry and Haiti
by Ben Terrall, September 24, 2004

Rolling Haiti Back to Colonialism
September 23, 2004 - by Kevin Pina and Charles Boylan

Blindsided in Haiti
by Claude Adams
This February, I came face to face with one of Izmery's killers. He was wearing a crisp Army uniform, aviator glasses, a cell phone clipped to his shirt pocket, and a pistol in a holster at his hip. His name was Louis-Jodel Chamblain. His eyes were bloodshot and he looked a bit drawn - the stress, obviously, of leading an insurrection. He called himself the commandant of Haiti's New Army.
Full Article : journalism.ubc.ca

CARICOM's Action on Haiti:
Honor for a Few, Shame for Most
Council on Hemispheric Affairs, August 12, 2004

Human Rights Horrors in Haiti
by Anthony Fenton, July 28, 2004

Reasoning: Haiti After the Press Went Home
RastafariSpeaks.com Message Board

Did the Bush Administration Allow a Network of Right-Wing Republicans to Foment a Violent Coup in Haiti?
Democracynow.org, July 20, 2004

The Witch Hunt Intensifies
by Justin Felux, July 03, 2004; dissidentvoice.org

Chaos Upon Chaos:
Haiti After the Press Went Home
by Lucson Pierre-Charles, June 22, 2004

Turning Haiti into One Big Sweatshop
by JG, June 19, 2004

Statement by Jean-Bertrand Aristide
by Jean-Bertrand Aristide, June 04, 2004

The White Curse [Haiti]
by Eduardo Galeano, June 004

Haitians Seized, Abused by U.S. Marines
blackcommentator.com, May 13, 2004

Rep. Maxine Waters Calls on Congress Not To Recognize New Haitian Government Democracynow.org, May 05, 2004

U.S., France Block UN Probe of Aristide Ouster
by Thalif Deen, April 13, 2004, the Inter Press Service

Return to Haiti: The American Learning Zone
counterpunch.org, April 14, 2004

Aristide launches kidnap lawsuit BBC, April 01, 2004

The Kidnapping Of President Jean-Bertrand Aristide
From Haiti Violates International And United States Law
March 31, 2004 By Marjorie Cohn

Caribbean Won't Accept Haiti's New Gov't March 26, 2004

Aristide to settle in South Africa March 26, 2004

Condoleezza Rice Threatens Jamaica Over Aristide
March 25th, 2004; democracynow.org

Bushwhacked in the Caribbean
by Randall Robinson, March 22, 2004

Aristide prepares for departure to S Africa
www.jamaica-gleaner.com, March 22, 2004

Telling the imperialists to go to hell
March 22, 2004, By Stephen Gowans

Dithering on Haiti
www.jamaica-gleaner.com, March 21, 2004

Haiti and the Impotence of Black America
March 19, 2004, By Cynthia McKinney

U.S. furious at Jamaica for embrace of Aristide
March 19, 2004 miami.com

Patterson urges Caricom to hold ranks on Haiti
March 19, 2004; jamaicaobserver.com

Haitian Unrest: Aristide's Fall was Really a U.S.-led Coup
March 18, 2004; twincities.com via commondreams.org

Noam Chomsky Traces Underpinnings Of Aristide's Ouster
March 17, 2004; DemocracyNow.org

Venezuela Won't Recognize Haiti's New "illegitimate" Government
March 17, 2004; venezuelanalysis.com

Venezuela opens doors to President Jean Bertrand Aristide and criticizes Organization of American States (OAS) March 16, 2004; Vheadline.com

Aristide leaves for Jamaica March 15, 2004
Clearance came after tense stand-off in Bangui
jamaicaobserver.com

Aristide Meets With Escorts to Jamaica March 14, 2004
By Joseph Benamsse, guardian.co.uk

Debunking the Media's Lies about President Aristide March 14, 2004
By Justin Felux, rastaspeaks.com

Behind Aristide's Fall: What Led to the Coup? March 12, 2004
By Helen Scott and Ashley Smith, counterpunch.org

Aristide heading for Jamaica March 12, 2004
jamaicaobserver.com

Role in Haiti Events Backfiring on Washington by Jim Lobe

Early Beginnings:
The First Successful Slave Revolt and a Free Nation
March 11, 2004 Compiled by Elizabeth Harper

Stenographers to Power:
US Press Torpedoes Aristide March 11, 2004

The First US Takeover of Haiti
set the Stage for Later Interventions March 10, 2004

The Occupation of Haiti: Recalling 1915-1934 March 10, 2004

US-Haiti by Noam Chomsky; March 09, 2004

More Articles on Haiti's Coup




---