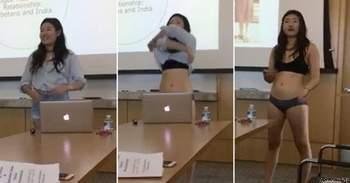 Cornell Student Delivers Presentation In Underwear After Professor Criticizes Choice Of Clothes
By Pritha Paul
May 11, 2018 - ibtimes.com
A Cornell University student stripped down to her undergarments during a thesis presentation Saturday after her professor criticized her choice of clothes during one of the test runs of the presentation.
During a rehearsal of the presentation, Letitia Chai's professor Rebekah Maggor asked whether the denim cutoff shorts she was wearing was appropriate for the occasion.
"The first thing that the professor said to me was 'is that really what you would wear?" Chai wrote in a Facebook post about the incident. "The professor proceeded to tell me, in front of my whole class, that I was inviting the male gaze away from the content of my presentation and onto my body," she wrote in a presently-deleted Facebook post on May 2.
She told the Cornell Sun she was "so taken aback that I didn't really know how to respond." While most of her peers in "Acting in Public: Performance in Everyday Life" class took her side, questioning Maggor's perception of men, one of the students defended the professor's remarks, saying Chai should dress more conservatively for the sake of morality.
Full Article : ibtimes.com