There isn't a Biggest Story for Today, yet.
There isn't content right now for this block.

World Focus: Hillary and Other Assorted Barbarians at Russia's Gate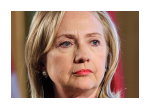 By Glen Ford
March 07, 2014 - blackagendareport.com

"Americans sound like southern white fascists, with their reflexive assumptions of supremacy, global privilege, and ordained national mission."

Hillary Clinton is a walking profanity – and, thereby, a prime candidate to be the next president of the United States. The fiend who played Julius Caesar when U.S.-employed jihadists butchered Libya's Muammar Gaddafi ("We came, we saw, he died") now likens Russia's response to the U.S.-backed fascist putsch in the Ukraine to Hitler's quest for a Greater Germany. It is like spitting on the graves of the 25 million Russians and other Soviet nationalities slaughtered in Hitler's racist jihad – the people who actually defeated the Nazis while the U.S. and Britain loitered off Europe's shores. At war's end, the United States imported thousands of Nazis to construct the nuclear/chemical/biological military juggernaut that would usher in an "American Century" – while confiscating Paul Robeson and W.E.B. Dubois' passports.

Thanks to the Americans, West German denazification never happened but, by the mid-Seventies, Washington had implanted fascist military regimes throughout Latin America – one of which exterminated 200,000 Guatemalan Mayas.

There is a problem right now with this block.