There isn't a Biggest Story for Today, yet.
There isn't content right now for this block.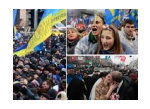 US intelligence officials back theory that Malaysian Airlines Flight 17 was likely shot down by ill-equipped rebels, but evidence shows no direct involvement by Russia

By Jon Queally
July 23, 2014 - commondreams.org

New comments from high-level U.S. officials and portions of declassified intelligence information released on Tuesday indicates—contrary to earlier comments by U.S. Secretary of State John Kerry—that Russia had no direct involvement in last week's Malaysian Airlines Flight 17 disaster in which 298 passengers were killed after being shot down over eastern Ukraine.

Overall, the U.S. assessment as of Tuesday appears to be that the shooting down of the airliner was "a mistake" by Ukrainian rebels in the east of the country who remain in a protracted battle with the Ukraine Army controlled by the newly-established government in Kiev. Though the presented evidence—much of which could not be independently verified by media outlets—attempted to make connections between Russian weapons and training facilities—no "smoking gun" was presented that showed Russian forces or personnel were involved.

There is a problem right now with this block.